News
Reflection and reinvention take centre stage on the final day of Madrid Fusión Alimentos de España 2021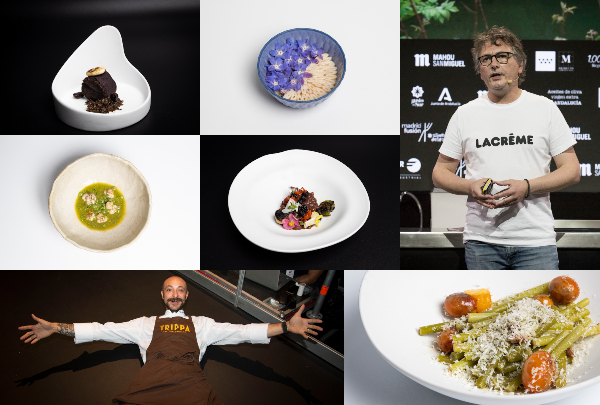 Forging new and better paths after a year of crisis was among the themes of the last day of Madrid Fusión Alimentos de España 2021.

The international flavour of Madrid Fusión Alimentos de España, continued on the final day of the world's leading gastronomy congress. Chefs from across the world came together at IFEMA to share their thoughts on circular gastronomy, the theme of this 19th edition of the congress.

Drawing three days of debates, presentations and discussions to a close, the chefs reflected on their solutions to the challenges faced by hospitality as the sector moves on from this past year of crisis, sharing their vision for a more responsible and sustainable world.

Mauro Colagreco the Argentinean chef owner of Mirazur, currently ranked the best restaurant in the world, outlined the new Mirazur menu, which is determined by the changes in the lunar cycle in his presentation A dialogue with the invisible.

The idea for the lunar menu, based on biodynamic principles, was conceived during the lockdown last year when Colagreco spent most of his time in his gardens and had the chance to consider how Mirazur, located on the border of France and Italy, interacted with the natural environment of sea, mountain and gardens surrounding him. Motivated by this desire to forge a closer and more respectful bond with nature, he has introduced an entirely new and deeply immersive concept in his restaurant.

The result of his reflections is a rotation of four menus – centred on roots, leaves, flowers or fruits – and the dining experience of any given day depends on the position of the moon. Colagreco explained how this means that the menu and the restaurant setting can change up to four times in a week.

His presentation at Madrid Fusión Alimentos de España took place on a flower day and Colagreco and his team prepared a nine-step menu to demonstrate the experience diners might expect on a flower day at Mirazur.

"As chefs we have an opportunity to have a positive impact on the environment; we can raise awareness and I believe this is an important time to take care of life. This is what the planet needs and it is what future generations after us are demanding. This is why I say that the future is today. Nature is at the core of our kitchen, we should be respecting its life cycles and we must never lose sight of this."

Björn Swanson, the chef owner of Faelt restaurant in Berlin, Germany, shared his approach to a modern restaurant during his presentation Venison. Blood. Cabbage, as he explained how more than 15 years working in Michelin restaurants had made him yearn for a simpler and more approachable setting, stating that his desire is for good food to be available to everyone and not just those with money.

Swanson opened Faelt in October 2020 during the pandemic and was awarded a Michelin star during the brief period of four weeks that he was able to open for.

At the core of Faelt, described as a German restaurant with Nordic influences, owing to Swanson's Swedish heritage, is a total commitment to sustainability – all ingredients are sourced from within 50km from the restaurant, in Berlin and the Brandenburg region beyond.

On stage he demonstrated a commitment to using every part of the animal by preparing dish of venison carpaccio, using the venison blood to create a sauce.

"During the pandemic I had time to think about our priorities in life and after all the stars and experiences working in large complex kitchens, I wanted something simple. Faelt is about flavour, not special effects."

Diego Rossi explained how he opened Trippa, his Milan restaurant, to restore the standing of the classic Italian trattoria, once known as popular places to enjoy seasonal cooking but more recently considered a place to visit for cheap food with little care shown for the ingredients.

In his presentation The trattoria linked to sustainability, Rossi spoke of the principles of sustainability that guide him in this mission to make a traditional concept popular again.

He has set about improving classic dishes that are no longer treated with the respect they deserve – he demonstrated this through a modern version of Vitello Tonnato. Another area of his focus is to recover ingredients that are rarely used today – an example is the use of lake sardines instead of anchovies. Finally, Trippa is a restaurant that is famous for offal dishes and Rossi's third preparation on stage was old sheep tartar seasoned with lamb brain.

"Many of the ingredients we use in Trippa are described as poor, but that means nothing, they may be cheap but there is no poverty in an ingredient when it is done the right way."

The pandemic has had a profound impact on Andoni Luis Aduriz, the chef and owner of Mugaritz in the Basque Country, causing him to look at life in an entirely different way. At Madrid Fusión Alimentos de España, he outlined how he reflected on life during the time confined to his home. He thought about finding a way forward after a difficult year; going back to how things were before the pandemic was out of the question.

Through his presentation Once upon a time, a first time Aduriz described how this enforced closure had made him look back to the origin of Mugaritz and consider how he and his team had set out on their journey the first time and embarked on a process of innovation and creativity.

The experience has informed his 2021 menu at Mugaritz, which is also named The first time, and is an attempt to look at everything again as it is were for the very first time. He demonstrated an example included in the menu, which encourages the diner to reflect on their own first experience, such as their first kiss.

"Nothing is the same as it was before; swimming in the ocean is no longer the same experience, giving somebody a hug does not feel like it did before. Everything is different. It is my wish that we can start to look at the world again in a new and different way."

On day three of Madrid Fusión Alimentos de España the main auditorium also heard from Juan Sebastian Pérez from Quitu restaurant in Quito, Ecuador; Juanjo Losada of Pablo in Spain; Josep Roca, sommelier of El Celler de Can Roca who discussed the role of emotion in the dining room; Jorge Martínez, director of the film Detrás; Dani Lasa, Itziar Moreno and Giulio Quagiotto who talked about innovation and gastronomy; Pablo González Conejero from Cabaña Buenavista in Murcia, Spain; Sergio Manzano from A'Barra in Madrid; Luis Callealta and Rafa Monge from Cádiz in Spain talking about vegetable food waste.

Magazine